What is a sexfight?
Sexfights are the main topic of this website. Who doesn't know or doesn't know exactly what it is or wants to know about what kind of sexfight we are talking here, you will find out now!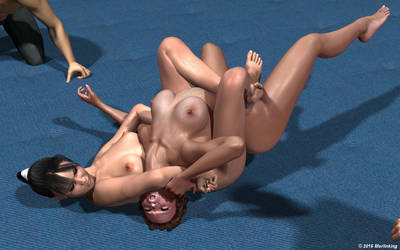 The fights discussed on this website are fundamentally first of all a form of wrestling: Two girls fight against each other on a mat and try to press each other's shoulders onto the mat, i.e. pinning her make her submit. It's about pins and submissions. Each submission and each pin of the opponent counts one point. The girl with the most points will be the winner. How much time a match takes, of course, that varies from fight to fight.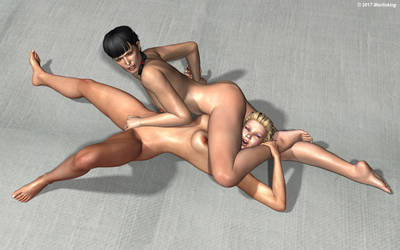 But a sexfight or sex wrestling match is, as the word suggests, something sexual. The girls have to fight totally naked, and another possibility for a wrestler to win before time runs out is to force her opponent to an orgasm. In addition to the traditional techniques and holds allowed in pin-and-submission wrestling, the hand may also be used to stimulate the opponents clitoris.
So the goal must be to gain superior and to fix the opponent girl sufficiently, but to still have one hand free to start stimulation. In the best case the opponent will be brought to the climax or she will surrender if she can't free herself, but of course wants a new chance instead of losing the whole fight immediately. In this case, points are primarily made by submissions, as well as by conventional terms. However, the use of the fingers on and in the opponent girls sex also serves to demoralize, provoke and increasing her desire to reduce her fighting morale and concentration. If a wrestler deals skillfully with her opponent, she feels how permanently orgasmic feelings come up in her entire body. Getting and keeping the opponent in ecstasy is an important method in a sex fight.
What kind of women do compete in sexfights?
Heterosexual, bisexual and also lesbian women may be interested in such a kind of sports. The sexual focus is less important than the desire to fight another woman and how sexual this desire is. Women who just wrestle for fun or do martial arts will have no interest in it. Women who are sexually interested in fighting of course may be.
In the case of heterosexual women, the pleasure may subconsciously stem from the fact that a female competitor can be defeated in the course of a sports competition. For lesbian women, this may be due to the prospect of sexually humiliating the opponent, i.e. living out a sadistic – or in the event of defeat a masochistic – preference in a sports competition. For lesbian and bisexual women, a sex fight can also be a form of sex or a foreplay to it. This is not the case with heterosexual women. For them, sexual wrestling and to have sex with a man, are two completely separated and different areas of their sexuality.
What kinds of sexfight are existing?
Who wants to organize a sexfight, of course can determine this following own preferences. Many lesbian women will want to include more sexual actions in the fight or some women want to fight without points to the end or even points only for orgasms awarded, so the winner will be who could force the opponent to more climaxes. Apart from that, sexfights can of course not only be for women.
Ultimate Surrender, for example, is an already real and officially existing form of sexfighting. The consensus is mostly that orgasm leads to defeat. In the sex ring fight on time or points limit and in sex fights divided into rounds it is like that.